120mL - 2x60mL - Crisp - Strawberine
120mL - 2x60mL - Crisp - Strawberine
Cosmic Fog
description
120mL (Two 60mL Bottles)
The Crisp Team turned to nature for inspiration in creating all of its flavors and no flavor in nature makes so much impact with so little credit as the juice, mouthwatering baby tangerine. This delicous citrusy treat is enjoyed by millions for its unique mandarin flavor and perfect texture. They've infused this nature perfected flavor with the soft backing of sweet and juicy strawberry to create this one of a kind Crip experience. 
Also found in:
Customer Reviews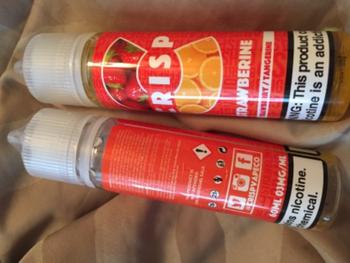 04/24/2018
Great taste
Liquid is thick enough that you don't go through it super fast and it tastes great! Love that it comes in 2 60ml bottles instead of 1 120ml one.
07/06/2021
New flavor but the mix is a little harsh on the throat.
Kenneth S.

United States
07/06/2021
Buy Vapor is Awesome
The juice (crisp strawberine) is dope. The store is even more dope. I ordered 4 bottles of juice on Wednesday and had it on Friday.
Anonymous

United States
05/19/2021
Totally recommend
Love the flavor and received order quickly.
Michelle C.

United States
02/23/2021
Great vape choice
Love the taste. Not to heavy. Runs through my pen just enough and doesn't clog it too fast before needing a new pod.
Michelle C.

United States