60mL Pacha Mama - Mango Pitaya Pineapple
60mL Pacha Mama - Mango Pitaya Pineapple
Pacha Mama
description
60mL Pacha Mama by Charlie's Chalk Dust -Vaping this juice is like being in the tropics and able to smell and pick the fresh mango, pineapple and exotic pitaya right from the trees!
VG/PG Ratio: 70/30
Made in the USA
Material: Glass Bottle
Cap: Child-Resistant Cap w/Dropper
Ingredients: Contains Nicotine, PG/VG, Natural and Artificial ingredients.
Also found in:
Customer Reviews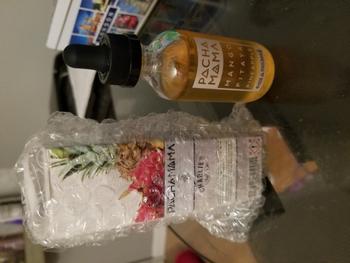 03/21/2018
Love it
Recently purchased the Mango Pitaya Pineapple for the second time and I must say I love this flavor. My order was at my door steps 2 days later. Way before shipping date. Both bottles were packed securely. No issues what so ever. Thank you.
10/03/2019
Least favorite of Pacha brand.
It was just ok, while it is my least favorite from Pacha it is still worth a try. I guess I was looking more for a tropical taste rather than an exotic taste.
04/27/2019
My second favorite ever!
I exclusively vape the Pacha Mama selection. SPECIFICALLY Peach Papaya Coconut Cream and this one. I have been vaping for over 2 years, and I have tried probably one hundred flavors and brands...and I just can't get enough of CCD Pacha Mama. I highly recommend this flavor and all other CCDPM flavors!
04/17/2019
v arceneaux
I love this entire line will continue to purchase as long as you carry them
03/15/2019
v arceneaux
WOW I love this stuff!!!