100mL Stumps - Pops - Sweet and Sour Melon
100mL Stumps - Pops - Sweet and Sour Melon
Stumps
description
100mL
A balance of Sweet and Sour Melon
VG/PG Ratio: 70/30
Made in the USA
Material: Gorilla Bottle
Cap: Child-Resistant Cap w/Nozzle
Ingredients: Nicotine, PG/VG, Natural and Artificial Ingredients. 
Also found in:
More like this:
Customer Reviews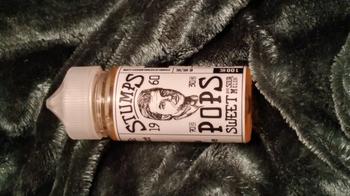 12/25/2018
Stumps sweet and sour mel6
I never have to wait long for it to arrive. I'm enjoying using the sour melon very much.
Bridgett C.
United States
07/10/2020
space jam
didn't realize there wasn't salt nic
sherry r.
United States
05/03/2020
Not bad Old Man Better than dead pres melon flavor
I got thus100 ml as an add on add it s pretty good hoping new cool brings out more flavor cuz this could've an adv the one that cost me 6 7 bucks is the best .
STeven F.
United States
04/06/2020
Sweet And Sour Melon
Love It. Taste is there. Very Very Fast Shipping.
Mark T.
United States
03/13/2020
Stumps
Great tasting vape at a great price.
Anonymous
United States