100mL - The One - Blueberry Cereal Donut Milk
100mL - The One - Blueberry Cereal Donut Milk
The One
description
100mL
Fresh blueberries and crunchy flakey cereal topped off with sweet donut milk! Your favorite breakfast food has just become a mouth-watering dessert
VG/PG Ratio: 70/30
Made in the USA
Material: Plastic Gorilla Bottle 
Cap: Child-Resistant Cap w/Nozzle
Ingredients: 
Also found in:
Customer Reviews
Write a Review
Ask a Question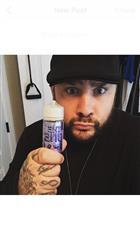 08/30/2018
Delicious
This stuff is great, super tasty...Made by the guys at Beard Vape Co. The only thing is that it is very, very sweet, so keep that in mind, but a ton of flavor..It reminds me if you dunked a blueberry cake donut from Dunkin' Donuts in milk..One of my favorites, great price for the 100ML
More Links
Contact us
BuyVapor.com LLC
2618 S. 900 W.
South Salt Lake, UT 84119

Call: 844-948-0505
9am to 5pm Mon-Friday

Email: Help@BuyVapor.com
24/7
Sign up to our mailing list
WARNING: This product contains nicotine. Nicotine is an addictive chemical.