60mL - Coastal Clouds - The Traveler
60mL - Coastal Clouds - The Traveler
Coastal Clouds
description
60mL
Let your wanderlust lead you to this refreshing Italian ice bursting with sweet blood orange, tropical mango, and tart lemon.
VG/PG Ratio: 70/30
Made in the USA
Material: Plastic Bottle
Cap: Child-Resistant Cap
Ingredients: Propylene Glycol (USP) Vegetable Glycerin (USP) Food Flavors, Nicotine 
Also found in:
Customer Reviews
Write a Review
Ask a Question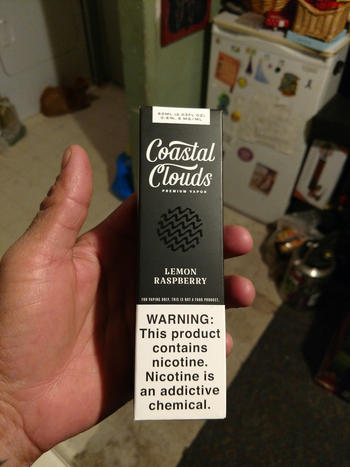 04/24/2021
False advertising
I was very disappointed with this company. BuyVapor.com is advertising Coastal Clouds The Traveler which is Blood Orange Italian Ice With Mango & Lemon. I have been looking for this flavor for some time now. When I found BuyVapor.com was advertising The Traveler I bought 3. When I received my order what I got was Coastal Clouds Lemon Raspberry. Not what I ordered. On the invoice that came with my order it states Coastal Clouds The Traveler. I think BuyVapor.com should not advertise what they do not have. I will never purchase anything from the company ever again
Jeremiah B.

United States
Thank you for reaching out to us with this concern. The Traveler flavor was discontinued and replaced with the Lemon Raspberry Flavor you received. When we order The Traveler from Coastal Clouds they send us this flavor as it is its replacement. We never meant to mislead you on a flavor. I will have the website manager look into updating this product. We are more than happy to refund you for the bottles if you send the items back to us. The 0mg we have in stock are still the original Traveler flavor but the 3mg and 6mg have all been moved to the newer replacement. Reach out with any other questions or issues and we will be happy to help however we can. Thanks!
More Links
Contact us
BuyVapor.com LLC
2618 S. 900 W.
South Salt Lake, UT 84119

Call: 844-948-0505
9am to 5pm Mon-Friday

Email: Help@BuyVapor.com
24/7
Sign up to our mailing list
WARNING: This product contains nicotine. Nicotine is an addictive chemical.