120mL - Cuttwood - Unicorn Milk
120mL - Cuttwood - Unicorn Milk
Cuttwood
description
120mL
All Natural Strawberry Extract and four different Creams. Tastes just like Strawberry Milk.
VG/PG Ratio: 70/30
Made in the USA
Material: Glass Bottle
Cap: Child-Resistant Cap w/dropper
Ingredients: Vegetable Glycerin (USP) Artificial and/or Natural Flavorings, Propylene Glycol (USP), Deionized Water, and Nicotine (USP)
Also found in:
Customer Reviews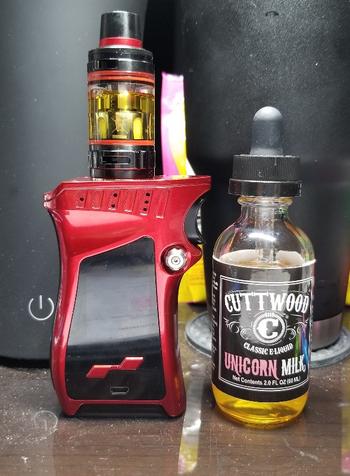 03/18/2018
Rated Best Seller - Definitely see why!
Cuttwood, overall, has a huge reputation as one of the dominating brands in vape juices and all their juices definitely prove that title correct. I've been using Unicorn Milk for the longest time after trying literally ever "similar" juice out there from every brand (well known, and not so much so) on the planet. I can vape this 24/7 and not get sick of it. Not to mention it's the only juice that I can vape on all day, and not wake up in the morning and be coughing up stuff like having smokers-cough. Won't be switching it up anytime soon! That's for sure.
09/02/2020
My go to juice
For years all I've been Vaping unicorn milk and I can't imagine any other juice. Buyvapor is my go to online store, they ship promptly and have amazing cust service.
Amanda F.
United States
06/23/2020
Unicorn milk for the win!
I've been in love with this juice since the moment I tried it four years ago. Thank you for making it accessible to me through your website since I haven't been able to find it at any stores in Arizona for awhile.
Alanna S.
United States
06/22/2020
The GOAT of Vape Flavors
I've tried countless flavors and once I discovered Cuttwood's Unicorn Milk, I never looked back. Smooth, delicious and just the right balance of bite and richness.
melissa c.
United States
04/05/2020
Great service
New flavor for me - very nice
Anonymous
United States